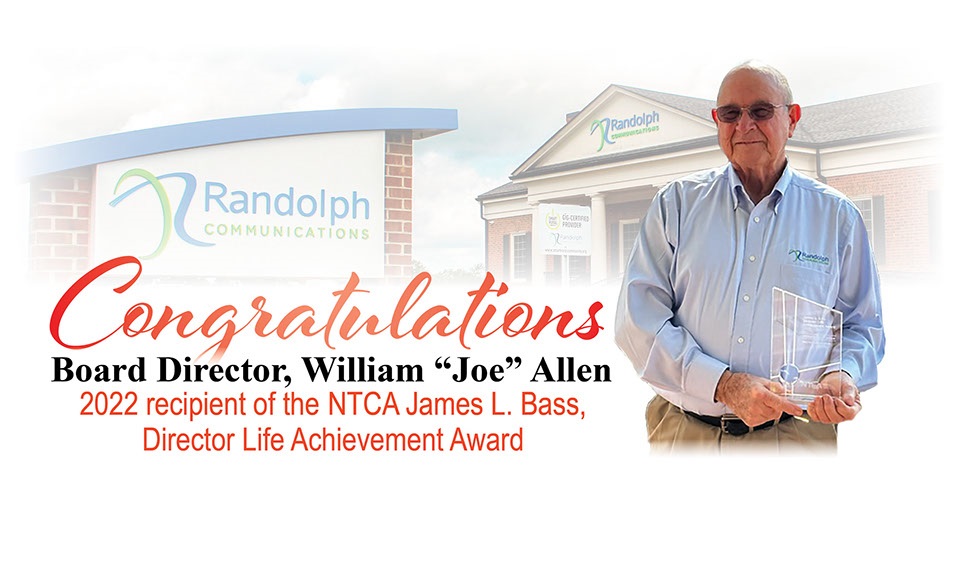 Randolph Communications congratulates Board Director, William "Joe" Allen, the recipient of the NTCA James L. Bass, Director Life Achievement Award
February 22, 2023
Asheboro, N.C
.– The National Telecommunications Association Awards are the highest recognition of individual achievement; and, they honor those who have shown commitment to their communities and the rural telecommunications industry. Joe Allen has dedicated 35+ years to serving his community as a Director for Randolph Telephone Membership Corporation. During his time on the board, he has served in several officer positions, including Past President for 10 years. In 2012, Mr. Allen led our organization through an acquisition of an incumbent local company increasing the cooperative's membership by almost 3,500 members.
Mr. Allen was also instrumental in transitioning our traditional telephone cooperative to a broadband internet service provider by championing the efforts to overbuild our 564 square miles of the rural service area with a fiber optic network to prepare our co-op for the future. Without losing sight of our cooperative roots and mission to improve the lives of our customers and communities, under Mr. Allen's Presidency, our organization educated our customers on technology impacting the cooperative's primary business plan migrating from telephone to broadband warranting a "doing business as" name change to Randolph Communications. For future sustainability, we evolved to more than just the telephone, with the co-op now offering Gig services, computer services, networking, wireless, home security, web hosting, and IT services. His foresight and leadership have enabled our members to be connected and participate in the broadband-driven digital world of today and tomorrow. On-going education and participation at industry events have enabled Joe to learn, grow and foster change as technology has evolved for the telecommunications industry. Joe has been very active with the statewide Carolina-Virginias Telephone Membership Association serving as Past President and Director for many years.

Mr. Allen has acquired his Director Core Curriculum Certificate of Completion with NTCA - The Rural Broadband Association, and continues to participate in learning opportunities at national industry events. Kim Garner, CEO & General Manager of Randolph Communications stated, "I have had the pleasure of working with Mr. Allen for twenty-five years, and as CEO/General Manager the last five years. I have witnessed first-hand his gentle leadership style. He is always a great listener and allows others to share their perspectives, takes to heart suggestions, bridges viewpoints and offers sound advice." She further stated, "During the pandemic, Joe was always available in person or remotely, with a voice of reason and sharing words of encouragement during a time of uncertainty."

Outside of RTMC, Joe has been a community leader and rural advocate in many ways. He has a servant's heart and it is evident by the following accomplishments:

► Carolina Farm Credit, retired after 28 years employment, served as Loan Officer, Branch Manager, and Regional Manager
► Member of the Randolph Livestock and Poultry Improvement Association, 49 years, past board member
► Member of the Ramseur Lions Club, 5 years
► Volunteer Ag District Board (association of farm businesses)
► Farm Bureau, previous board member
► Carolina Evangelical Divinity School, past board member, 14 years
► Atlantic Friends Christian Ministry, past Clerk
► Holly Springs Friends Meeting, member and current Clerk

All of this and more make Mr. Joe Allen the deserving recipient of the NCTA James L. Bass Life Achievement Award. We are honored to have you in our co-op family!