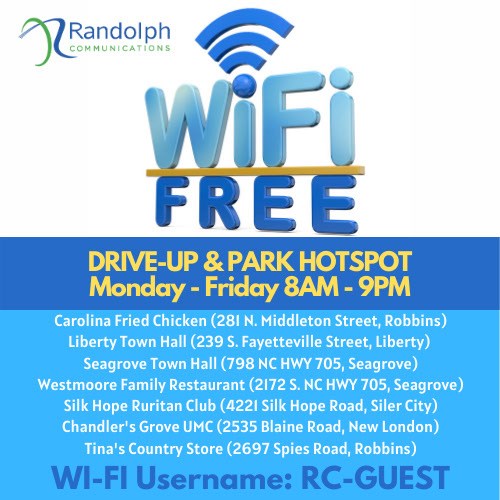 WI-FI Hotspots Now Available
March 27, 2020
Drive-Up & Park WI-FI Hotspots | 3.27.20

To our RC customers:
Randolph Communications is pleased to partner with the following locations to provide Free Drive-Up & Park WI-FI Hotspots that will allow school children the ability to access their educational materials during school closures. These are open every day from 8 a.m. to 9 p.m. These hotspots will allow users to stay in their vehicles and connect via their wireless device to the RC-Guest network. No password is required. If you need further assistance from Randolph Communications, please contact our office at 336-879-5684.
Carolina Fried Chicken (281 N. Middleton Street, Robbins).
Chandlers Grove United Methodist Church (2535 Blaine Rd, New London).
Liberty Town Hall (239 S. Fayetteville Street, Liberty).
Seagrove Town Hall (798 NC HWY 705, Seagrove).
Silk Hope Ruritan Club (4221 Silk Hope Road, Siler City).
Tina's Country Store (2697 Spies Road, Robbins).
Westmoore Family Restaurant (2172 S. NC HWY 705, Seagrove).
WI-FI Username: RC-Guest